Office Leasing in Hanoi are leading in the world in term of yield, indicating a positive prospect on rental and occupancy rates in this market. However, the supply of new office is still "sluggish".
According to 'Savills World Office Yield Spectrum' report, in 2018, Hanoi is the leading city in the world in term of office yield with a market yield of 8.57%. Followed by Manila, Adelaide, Ho Chi Minh City and Perth respectively entered the global top five. This has been the third time since January 2017 that Hanoi ranked first in the world in terms of grad A office yield.
Commenting on the investment prospects of Vietnamese cities, Ms. Hoang Nguyet Minh, Investment Manager of Savills Hanoi, said: "The high yields indicate a relatively attractive correlation between income from leasing activities and market capitalization value of office buildings. Therefore, Hanoi has the highest level of yield demonstrate the positive prospect of rental and occupancy rates of this market".
"The rental rate in Hanoi recorded a 3% year-on-year increase in Q4 of 2018 whilst the occupancy rate is stable at 95%; grade A office segment in non-central area has shown improved operating situation. It is understandable that this market has been attracting much attention of foreign investors, especially customers from Singapore, Japan and Korea...", Ms. Minh said.
Also according to Savills representative, the foreign investors' demand to purchase ownership of office buildings is at high level, though the number of successful transaction has been very limited due to low supply of project for sale. The low supply of offices lead to increased competition in project price by investors, pushing the market yield down. It can be said that the office market in Vietnam belongs to the seller, in other words, if you own an office real estate project, this is a good time to sell.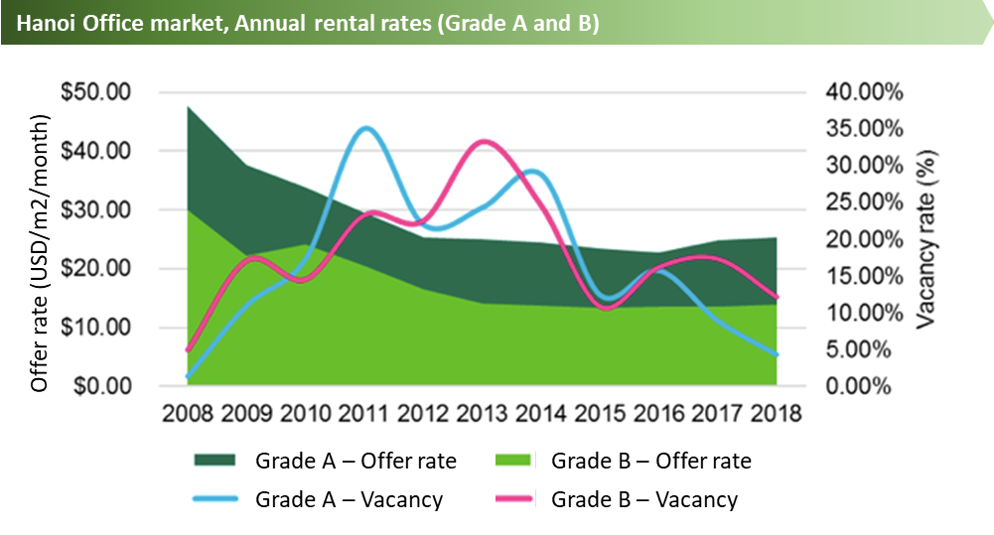 Sharing the same view with Savills, CBRE representative also said that in the past few years, office leasing is considered to be good investment in the real estate market. Specifically, the vacancy rate of Grade A office segment in Hanoi has dropped from 4.6% to 4.3%, a record low in the past 10 years. The key point for Hanoi office leasing market in 2018 was the absorbtion rate of 100,000 m2, highest in recent three years. Although the market has performed quite well, the supply for new offices is still "sluggish". In 2018, only two new projects was completed, leading to a 3% increase in total supply, lower than the 5% increase in the previous year. Both new project were of Grade B and located in the Western area, there was no new project in the central area. According to CBRE, the rental rates continued to increase in 2018. Rental rates for both grade increase by 2% year-on-year. At the end of 2018, Grade A rental rate reached US$ 25.4/ m2/ month while that of Grade B was US$ 13.9/ m2/ month (exlcuding VAT and service charges). In 2019, CBRE expect the rental rates will continue to rise, especially for Grade A segment with limited supply in central area. This will be the latest supply of Grade A office after 3 years inactive. In the next 2 years, the market will receive large amount of offices from the 68-storey Financial complex and Hotel to be built in West Lake area.
Source: http://cafef.vn/ha-noi-van-khat-van-phong-hang-a-du-ty-suat-sinh-loi-tu-cho-thue-dang-o-muc-cao-nhat-the-gioi-20190322105653398.chn